Next Beginners Course: 12th Nov
Thanks to some amazing support from Sport England our begginers courses are currently FREE.
Contact swindonfencingclub@hotmail.co.uk to book your place while available!
(Pleas note that the club no longer fences at the Oasis and has moved to the Deanery)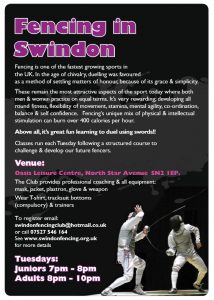 Fencing is one of the fastest growing sports in the UK. In the age of chivalry duelling was favoured as a method of settling matters of honour, because of its grace and simplicity.
These remain the most attractive aspects of the sport today. Its very rewarding; developing all round fitness, flexibility of movement, stamina, mental agility, co-ordination, balance and self confidence.
Above all its great fun!!!!
Our Beginners' course is an ideal way to start Fencing. The six week course will involve a mixture of instruction and sparring during the session. The course aim is to introduce the fundamentals of fencing technique to the novice, including footwork, blades skills such is parries, disengagement, cut over and compound attacks. The course looks primarily at foil, but time will be spent looking at the epee and sabre to fully immerse the novice into the discipline of fencing.
By the end of the course beginners will have a good foundation in the art of fencing and will be able to decide which weapon to pursue be it foil, epee or sabre.
The course provides the equipment needed, insurance, a first aider, CRB checked professional coaching staff, and a club within which the beginner may test their skills. This is the best way to start Fencing
Each Course is limited to 16 places
The cost for a 6 week course is £60.00
If you are interested then fill out the form below or email us at swindonfencingclub@hotmail.co.uk
Comments or questions are welcome.